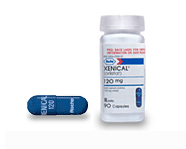 Xenical is a prescription weight-control medication useful for the long-term treatment of significant obesity. Each Xenical capsule contains 120mg of the active substance orlistat, which acts as a lipase inhibitor.
Xenical is a form of weight loss pill that is available only by prescription, meaning that the only way to legally obtain it is through a doctor or other healthcare professional who is licensed to write prescription drugs. It is manufactured by the pharmaceutical company called Roche. It is designed specifically to be used by individuals who are exceptionally overweight in order to help them to reduce their body mass more quickly in order to encourage better health and lower the risk of certain obesity related medical conditions.
Not everyone will be prescribed Xenical, just because they want to lose weight. A doctor will only be allowed to prescribe this drug to individuals whose body mass index (BMI) is 30 or greater, and who are at risk of other conditions such as high blood pressure, other heart problems, and/or diabetes.
Xenical functions to help with weight loss by blocking up to one third of all of the fat that is consumed in by the individual in the food he or she eats throughout the day. As the body will not be able to absorb as much of the fat, much more of it will simply be eliminated from the body with the rest of its waste.
Clinical studies have shown that by taking Xenical to reduce the amount of fat that is absorbed by the body fewer calories are taken in and therefore it is easier to lose weight through proper healthy diet and exercise.
The primary active ingredient in this drug is Orlistat. Xenical is the brand name version of that generic medication.
There are some side effects that are associated with this drug, and they are exacerbated when it is not properly used. It is very important that it be taken precisely according to the directions written on the prescription. It should be noted that just because this drug blocks fat, it doesn't mean that a dieter can continue eating a high fat diet. In fact, a lower fat diet is typically prescribed along with the use of this drug. Consuming too much fat while using this drug can lead to many unpleasant digestive reactions such as flatulence, cramping, nausea, diarrhea, oily stool, and other similar discomforts.
It is also important to discuss nutrition with your doctor while you are taking Xenical, because it may make it harder for your body to absorb fat soluble vitamins because some of the fat is not being absorbed by your body. Make sure that you know whether or not you should be supplementing your diet with additional vitamins, and how to go about doing that properly.
How Does Xenical Work?
Xenical is a weight loss medication that targets the absorption of fat in your body rather than suppressing your appetite. Xenical is useful for long term use and has been shown to be effective for 1 to 2 years. Dietary fats are inhibited from being absorbed and this allows about 30% of the fat eaten in the meal to pass through the gut undigested. This helps you to reduce and maintain your weight, as well as to minimize any weight regain.
Health Benefits of Xenical
Because Xenical helps overweight individuals lose weight, Xenical can help to reduce health risk factors, such as high blood pressure, high cholesterol and high blood sugar, that are related to obesity.